I have daydreams about Spring and beautiful flowers and new buds forming on the trees and my roses, we have planted 20 here!
Spring is my favorite season, maybe because it includes my birthday, wedding anniversary and Easter. Three of my favorite days of the year. Spring also brings gardening back to us. My Rock and I love to garden. Before little G was born we would spend almost every Saturday and Sunday in the yard building up our gardens. Every house we have lived in together, since 1998, has had new flower gardens built from scratch. We tilled the soil, raised beds, and picked all of our plants. This is what my Rock loves to do. And he is very good at it and knows the ins and outs of almost every tree, shrub and flower around. I love him for it.
But, Winter is still here. A great way to bring the outdoors inside is using terrariums. Terrariums have a wonderful history and their height of popularity was the Victorian era. Terrariums came in so many styles, from simple lines to highly decorated in brass, filigree ironwork, and hand painting. Even today one can find terrariums in different styles, from homemade, glass bottles or elaborate structures to house plants.
For more history click below: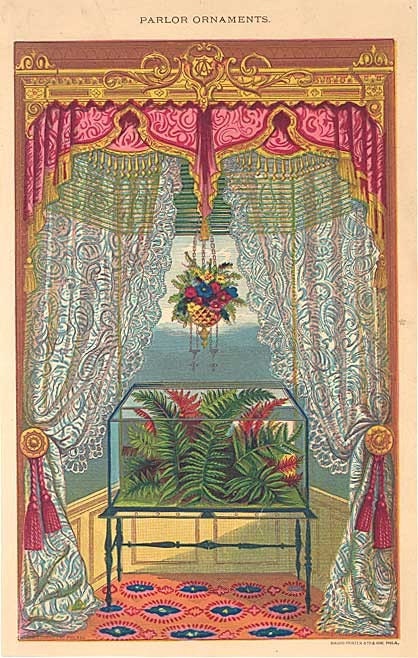 source
Victorian parlor room illustration
Building an indoor terrarium of your own can be as simple or as complex as you wish. I have links posted below for instructions and a few tips of my own.
Simple Terrarium:
1- choose your plants, ferns, mosses, orchids and herbs work well.
2- pick your terrarium, as simple as a glass cloche, glass house, covered cake plate or an elaborate antique.
3- water your plants, add soil if un-potting plants and your terrarium base will take the soil. or you can leave the plants in their original pots.
4- choose a bottom layer, if you wish. you can use moss, paper, ribbon, straw anything to make a little "nest" or leave simple and plain.
5- arrange your plants, consider spacing if using more than 1 plant. vary heights and colors.
6- cover and enjoy for months to come and show your children nature at work.
my simple terrarium, I added after Christmas. I missed the green of my tree!
The best plants for a terrarium are usually ones that enjoy high amounts of water and can tolerate being indoors. Ferns, mosses and herbs are all good candidates.
Below is a link for the best plants to create a terrarium
I added white violas to an antique wall basin in my guest bath.
the plants were placed in a cut sandwich bag for watering and then covered with moss.
VIOLA VIOLAS!
And if you're missing something to house your terrarium, forget the cover and sneak in plants to unusual spaces. I love doing this. It is always a surprise for you and guests. It makes me smile to see violas in January sitting inside my decorative birdcage or the antique basin shown above. And if it makes you smile, you should do it!
my violas in the birdcage. they smile back at me!
Also, a followup for 5 minute gardens from The Inspired Room. She has a great post on how simple, yet lovely indoor gardens can be.
FFH will have gardening posts monthly. I will dedicate one Monday to my love of nature, flowers and digging around outside.