I have been extremely busy! There are so many details of putting a store together. But I feel great about what is happening in my little space. It is finally coming together. And I can see my visualizations coming to life.
Above all, I want FFH to be a beautiful, restful place. Just like a home should not be overly fussy, but luxurious, comfortable, telling the story of who and what we are.
let's garden!
I have had orders from some great places and gotten some lovely items for you. Everything I have chosen has spoken to me in some way. There is nothing in my shop, your shop I would not have in my own home. And no, I am not sure if that is the best way to fill a home decor, lifestyle shop but it has been my motive the entire time I have shopped, picked and rescued merchandise!
I hope you love the space as much as I do. I have furniture, some custom, created by me and my wonderful friend and seamstress, Bonnie. She has truly been a blessing for me. I could not have put all of my ideas in motion if not for her talent. I thank her so very much! Some furniture is vintage, antique, rescued and some hand picked wholesale. Beautiful bedding, some custom and pieces from the California company, Pom Pom. They make very luxurious, organic linen bedding, tabletop and bath linens. So yummy!
pom pom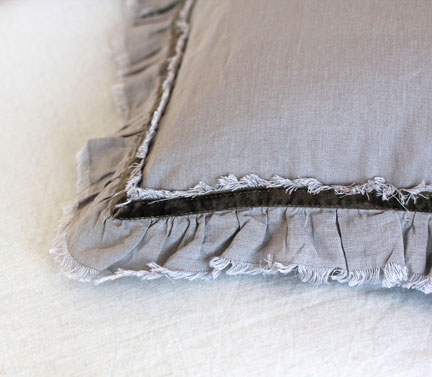 pom pom pillow sham
For tabletop and kitchen I have wonderful Dutch brands, Pip Studios and At Home with Marieke. Both brands are beautiful, playful but offer something different. Pip is bright, happy and colorful with a very Antoinette color palette. At Home is a little more subdued but still just as playful with plaids and stripes. I can't pick a favorite!
pip cappuccino cups and saucer
pip tea towels
at home. . . pillows
at home. . . gray collection
There is nothing in Fresh French Home that has been an after thought. Nothing I have not poured my thought and heart into and I am so excited to share it with you.
glass cloche
My doors will open May 30th for business, 10:00 a.m. sharp! The grand opening party will follow on Saturday. I hope you can join me. And either before or after stop by

Meridienne
at 109 S Main St. Bentonville. They have wonderful French pastries and lunch deliciousness. Please tell them I sent you.